What's New for July
New from Beulah Extra
| | |
| --- | --- |
| Click on image for full size printable inlay image | |
| Click on image for full size printable inlay image | |
| Click on image for full size printable inlay image | |
| Click on image for full size printable inlay image | |
| Click on image for full size printable inlay image | |
| Click on image for full size printable inlay image | |
| Click on image for full size printable inlay image | |
| Click on image for full size printable inlay image | |
| Click on image for full size printable inlay image | |

Click on image for full size printable inlay image


Click on image for full size printable inlay image


Click on image for full size printable inlay image


Click on image for full size printable inlay image

1st mvt


2nd and 3rd mvts

4th mvt


Click on image for full size printable inlay image

Click on image for full size printable inlay image

Click on image for full size printable inlay image
1st mvt


2nd and 3rd mvts


4th and 5th mvts

New from iTunes
5PD12 Boult condutcs English Music
| | |
| --- | --- |
| | Not yet available, please revisit this page later. |
Brian Wilson at Music Web International previews this release:
"There are more recent, highly recommendable versions of all this music, but Boult has a special touch in this repertoire, making even Old King Cole well worth hearing: the only other version that I know of that ballet (Richard Hickox, EMI British Composers 5739862) doesn't manage that quite so effectively. It is at least arguable, too, that this version of Tintagel is preferable to Boult's own remake on Lyrita ... The recording doesn't sound new-minted – even in 1955 the Gramophone reviewer commented on the lack of depth to the sound in Old King Cole and suspected that Tintagel did not lend itself to recording – but the mp3 transcription does it justice, sounding much better than the LPs did in 1955, I suspect. The sound-stage has been opened out to the extent that I imagined that some of the tracks were in stereo; they aren't. The 12 inch LP which contained Tintagel and King Cole cost 36 shillings in 1955 (at least £40 now), so this reissue is a true bargain as well as offering an hour of delight."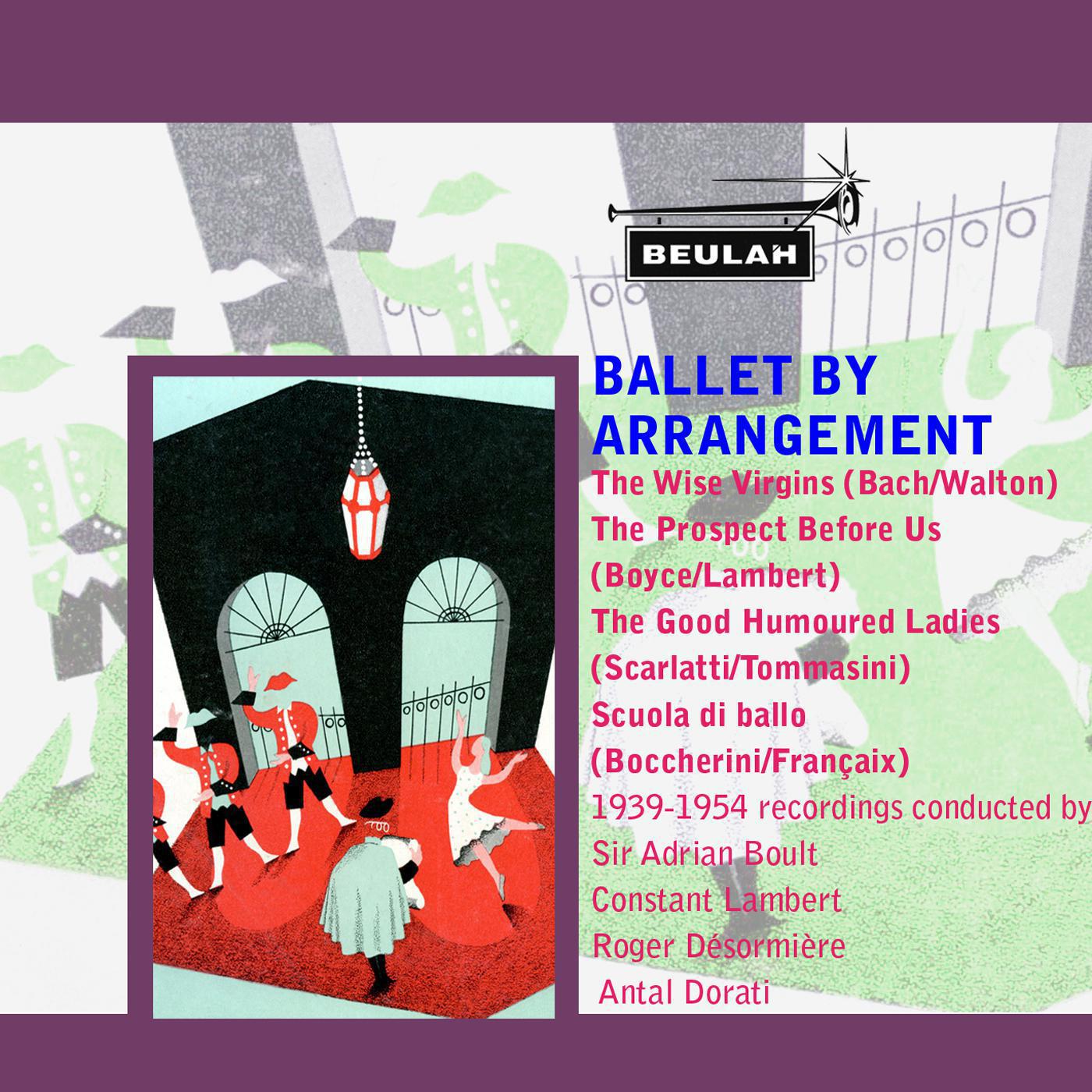 1PD40 Ballet by arrangement
The rapid growth of ballet during the first half of the twentieth century enabled music from the eighteenth century no longer heard in the concert hall, to be prsented to modern audiences performed by full orchestras. These and other arrangements of music from an earlier age lead to early music performances to gather momentum in the second half of the twentieth century.
| | |
| --- | --- |
| | Not yet available, please revisit this page later. |
What the critcis say

2PD17 Van Beinum Conducts Mahler
Symphony No 4 [listen]
Margaret Ritchie (Soprano) Concertgebouw Orchestra of Amsterdam conducted by Eduard van Beinum


Lieder eines fahrenden Gesellen[listen]
Eugenia Zareska (mezzo-soprano), London Philahrmonic Orchestra conducted by Eduard van Beinum

"This is an outstandingly successful transfer of the Symphony ...Van Beinum is so elegant and his underlying rhythms are so subtly placed that the booklet's description of the music as 'cheerful, carefree and sunny' is aptly justified. The 58 year old recording still stuns the ear with its powerful impact at the main climax." Anthony Hodgson Classical Record Collector Summer 2010
1PD35 The World of Dennis Brain

Dennis Brain (1921-1957) plays in:
"Members of the horn loving fraternity will rush to this CD, which is also recommended to general music lovers...Throughout these are all superb performances." Robert Matthew-Walker Classical Record Collector Summer 2010

1PD82 English Wind Band Classics
Gustav Holst
Suites Nos 1 and 2 Op 28 [Listen]
Hammersmith* [Listen]
Ralph Vaughan Williams
English Folksong Suite [Listen]
Toccata Marziale [Listen]
Gordon Jacob
William Byrd Suite for Symphonic Band* [Listen]
William Walton
Crown Imperial* [Listen]
Eastman Wind Ensemble
conductor
Frederick Fennell
1955 and 1959* recordings
*Stereo
Buy these tracks now at

"This is a mandatory purchase for nostalgics but has much to say to new listeners as well. "Frederick Fennell (1914- 2004) was the doyen of the windband movement and these recordings are emblematic of the best performance and recording practice in the 1950s and for many years after. They will put even the finest hi-fi through its paces whether in the thunder and crump of the percussion, the suede and velvet croon of the horns or the saw-toothed bite of the finale of the Holst Second Suite. Fennell keeps the pressure on the tempo throughout but is also partial to the evolutionary bloom of the middle movement. In the penultimate movement Fennell's open-mindedness shows through in the joyous use of the anvil to adumbrate the rhythm. Mistily impressionistic, Hammersmith is a tone poem in textures, adventurously probed Ivesian tonality and atmosphere. It has more in common with Holst's orchestral Egdon Heath than with the suites. The perky irrepressible Folksong Suite by Holst's friend RVW takes us back to the bustle and poetic language of Holst suites." - Rob Barnett at Music Web International
The following reviews are from Brian Wilson's monthy Download reviews at Music Web International
Orlando GIBBONS (1583-1625) Almighty and everlasting God; O Lord in thy wisdom; Hosanna to the Son of David; O Lord increase my faith; O clap your hands, God is gone up.
Choir of King's College, Cambridge/Boris Ord rec. 1954. Mono/ADD
BEULAH EXTRA 1BX20 [17:28]

"This is worth having for the sake of hearing what King's College Choir could do even before the reforming hand of David Willcocks was laid upon it. It's all too easy with the benefit of hindsight to regard the pre-Willcocks period as a kind of prehistoric time, but Boris Ord's championship of Gibbons on this recording, when his music was far from well known, is well worth hearing. The recording requires a degree of tolerance but the quality of the performance shines through, offering a fascinating comparison with the latter-day King's choir under Stephen Cleobury in 2007"
(Giuseppe) Domenico SCARLATTI (1685-1757)/arr. Vincenzo TOMMASINI (1878-1950)
The Good Humoured Ladies – Ballet (1916/17) [14:55]
Paris Conservatoire Orchestra/Roger Désormière – rec. 1950. Mono/ADD BEULAH EXTRA 1BX17 [14:55]

"I really enjoy this kind of confection and I was very pleased to be reminded of this suite from Le Donne di buon Umore, which began life as a skilful arrangement of sonatas by Domenico Scarlatti for a Diaghilev ballet. The performance has the kind of panache that is needed in order to bring off the blend of old and new and the recording is still quite acceptable, if a little thin.
Georges BIZET (1838-1875)
Carmen: Habañera; Seguidilla
Edith Coates (soprano); London Symphony Orchestra/Walter Goehr – rec. 1948. Mono. ADD
BEULAH EXTRA 1BX21 [5:26]

"Edith Coates' Carmen may be a little fruity by modern standards and it's not usual to sing opera in English any more. This is how I first heard Carmen, from the Carl Rosa company – but the recording is of more than sentimental or historical value and the sound is remarkably lifelike."
Wolfgang Amadeus MOZART (1756-1791)
Così fan tutte Overture
Berlin Staatsoper Orchestra/Leopold Ludwig – rec. 1938. Mono. ADD.
BEULAH EXTRA 1BX4 [4:09]

"A short but sweet reminder of Ludwig's way with Mozart – I'd like to hear more. The recording is inevitably lacking in frequency range, but more than tolerable, with hardly any 78 surface noise."
César FRANCK (1822-1890)
Pièce Héroïque
Édouard Commette (organ of Cathédrale Saint-Jean de Lyon) – rec. 1938. Mono. ADD
BEULAH EXTRA 1BX9 [7:58]

"The performance is powerful; if not definitive, it is well worth hearing. The recording is a little cavernous, but not impossibly so, and there is little or no 78 surface noise. "
Paul DUKAS (1865-1935)
L'Apprenti Sorcier (The Sorcerer's Apprentice)
Israel Philharmonic Orchestra/Georg Solti – rec. 1958. Stereo. ADD.
BEULAH EXTRA 1BX16 [9:48]

" A vigorous performance in good, early stereo, well transferred."
And finally a preview:
"Some interesting material is due to come from Beulah Extra in July, of which, for me, the highlight is the Curzon recording of Schubert's Trout Quintet as . Having recently bemoaned the fact that this is no longer generally available separately, I suggested that it would be very welcome – and here it is. If you have noted the fact that I have used this as the benchmark for every Trout that I have reviewed, you won't even need to wait for my review to download it when it becomes available."
Beulah at the Proms
This month sees the start of the 116th Henry Wood Proms season in London. We have listed all the Beulah tracks of works being played at the Proms.
Buy our compact discs from

Discs may be cheaper to buy at Crotchet than on this site.
Our CDs and DVDs are also available at

Powered by WebRing.
The items below are adverts that will take you away from this site