What's New for November
New from iTunes
Watch this space for November releases at iTunes
New at Beulah Extra
Quotes are from Brian Wilson's reviews at Music Web International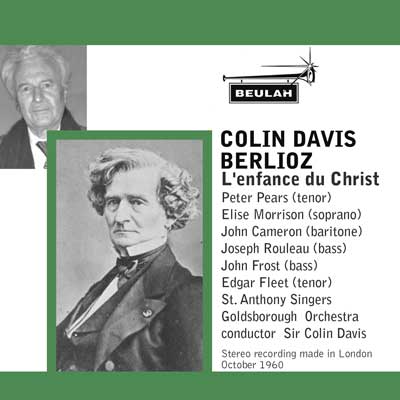 Click on image for full size printable inlay image

Part 1 Scene 1



Part 1 Scene 2



Part 1 Scenes 3 and 4



Part 1 Scene 5



Part 1 Scene 6



Part 2 Overture



Part 2 L'adieu des bergers



Part 2 Le repos de la sainte



Part 3 Scene 1



Part 3 Scene 2



Part 3 Scene 3


Brain Wilson's Reissue of the Month
Among the Christmas choral blockbusters, L'Enfance du Christ is something of an orphan by comparison with Handel's Messiah and Bach's Christmas Oratorio, apart from the ubiquitous Shepherds' farewell. To be honest, I can't remember when I last chose to listen to it – and this reissue reminds me what I've been missing. This is the first Colin Davis recording, made in 1960 for the Oiseau-Lyre label, not his later Philips remake or his even more recent version for the LSO's own label. With that LSO Live version apparently the only one currently available in the UK, this Beulah reissue of Mark 1 is very welcome. On its first appearance Alec Robertson wrote 'There is no need for any critical hesitation here. This performance of L'Enfance du Christ has all the qualities that I have for years dreamt of and longed for' and that remains true. I'm not a great fan of the timbre of Peter Pears but his performance as narrator has not been bettered and the other soloists can all hold their own, even with the incomparable Dame Janet Baker as Mary on the Philips recording as against Elsie Morison here, singing low in her register. Joseph Rouleau as Herod, singing of the hardships of being a king (Toujours ce rêve … Ô misère des rois) offers a particularly strong argument for this early recording. In this transfer the recording holds its own as well as the performance does. There's no libretto, but that's easy to come by, for example at berlioz.com.
| | |
| --- | --- |
| Click on image for full size printable inlay image | |
| Click on image for full size printable inlay image | |
The Solesmes choir under Dom Joseph Gajard were trend-setters in the editing and performing of plainchant, with recordings from the 1930s onwards. These performances of the first and third masses of the Nativity appeared in 1956 on Decca LXT5251 to a warm welcome. The recording, too, was very good for its time, albeit in mono only. Though there have been other recordings since which aim at reproducing the authentic sound of plainsong at a particular period of history – it has been something of a moveable feast – it was Solesmes who established the modern norm and these reissues of their singing the Christmas Masses make recommendable reissues.
| | |
| --- | --- |
| Click on image for full size printable inlay image | |
| Click on image for full size printable inlay image | |
| Click on image for full size printable inlay image | |
| Click on image for full size printable inlay image | |
| Click on image for full size printable inlay image | |
| Click on image for full size printable inlay image | |
Military music is a speciality of Beulah Extra; though by no means their only raison d'être. There are seven releases of music from the band and pipers of the Scots Guards directed by Colonel Sam Rhodes (1-7BX200), complete with the barking of orders on 5BX200. It's all well performed and the recordings – mono, from 1955 – still sound very well
| | |
| --- | --- |
| Click on image for full size printable inlay image | |
| Click on image for full size printable inlay image | |
| Click on image for full size printable inlay image | |
| Click on image for full size printable inlay image | |
| Click on image for full size printable inlay image | |
| Click on image for full size printable inlay image | |
| Click on image for full size printable inlay image | |
| Click on image for full size printable inlay image | |
| Click on image for full size printable inlay image | |
| Click on image for full size printable inlay image | |
| Click on image for full size printable inlay image | |
| Click on image for full size printable inlay image | |
| Click on image for full size printable inlay image | |
| Click on image for full size printable inlay image | |
| Click on image for full size printable inlay image | |
| Click on image for full size printable inlay image | |
| Click on image for full size printable inlay image | |
| Click on image for full size printable inlay image | |
| Click on image for full size printable inlay image | |
| Click on image for full size printable inlay image | |
| Click on image for full size printable inlay image | |
| Click on image for full size printable inlay image | |
| Click on image for full size printable inlay image | |
| Click on image for full size printable inlay image | |
| Click on image for full size printable inlay image | |
I enjoyed the Fennell reissues especially; they are particularly welcome at a time when the Universal catalogue seems to be shedding Mercury recordings from the Golden Age of the late 1950s and 1960s when these were made. All the transfers sound excellent – Mercury's recording technology was always at the cutting edge and Beulah's magic has made it all sound almost new-minted. The stereo recordings date from 1958 and 1959. Take it in small doses or you may tire yourself out tapping your feet in time – or even marching round the house, it's so contagious. Mariano san Miguel's The Golden Ear is a real discovery with its Mexican flavour and there are plenty of old favourites here, like Washington Post and Stars and Stripes, too. You won't find any of this repertoire better done. It's all available from